Beach Cities Robotics Movies
Beach Cities Robotics is FIRST team 294.

To play Quicktime movies, download Quicktime from the Apple Quicktime download site.
2009 Nevada Regional Robotics Competition (Las Vegas)
2008 San Diego Regional Robotics Competition
2006 Championship
2005 Championship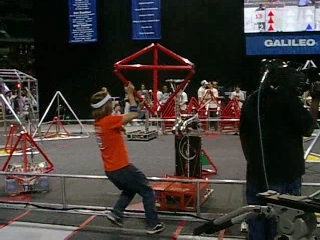 Beach Cities Robotics team member Kenny loads a red
tetrahedron into the jaws of the Orange Predator. Each
of the three drive teams on each alliance had one human
player.
Each of the two 2005 championship (Atlanta, Georgia) movies here is about 75 megabytes.
Related Links
---
movies.html, copyright © 2005-2010 by Rick Wagner, all rights reserved.
This page created December 19, 2005, by Rick Wagner. Last updated January 25, 2010 by Rick Wagner.