Markus Demonstrates Bonsai
Markus Leutwyler visited December 2 and 3 in 1997 and helped prepare this bonsai demonstration: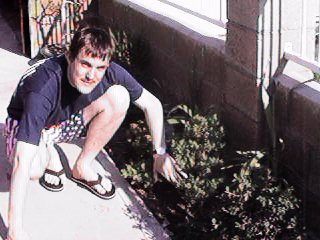 Step one: Markus selects a tree. This one is a prostrata juniper.
MARKUS12.JPG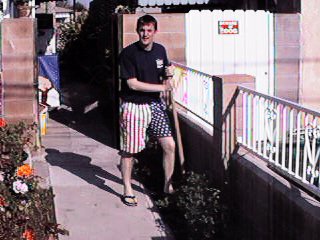 Step two: Markus digs the tree from the growing bed.
MARKUS11.JPG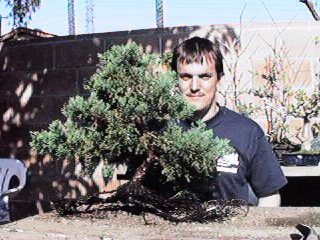 Step three: Markus with the tree on the table ready for pruning.
MARKUS13.JPG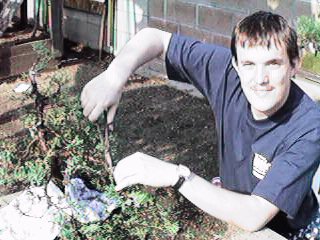 Step four: Markus prunes the branches.
MARKUS14.JPG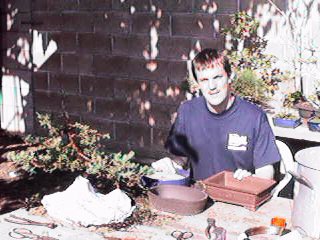 Step five: Markus selects a bonsai pot.
MARKUS15.JPG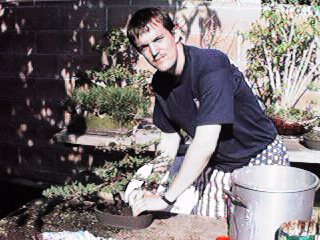 Step six: After the roots are pruned to fit the pot, Markus packs potting soil around the roots.
MARKUS16.JPG

Step seven: Markus shows off the finished bonsai.
MARKUS17.JPG
Email Richard dot J dot Wagner at gmail dot com
---
markus02.htm, this hand crafted HTML file was created December 4, 1997.
Last updated September 5, 2011, by Rick Wagner. Copyright © 2011, all rights reserved.