John Gardner
John Gardner and I were stationed together at the Air Force receiver site and satellite communications ground station at the Navy Communications Station in Wahiawa, Oahu, Hawaii in the mid to late 1970s.

John's grandson.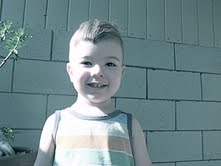 Elton.
Email Richard dot J dot Wagner at gmail dot com
---
index.html, this file created October 19, 2010.
Last updated March 18, 2012, by Rick Wagner. Copyright © 2010-2012, all rights reserved. Photo courtesy of John Gardner.