Walter
Walter is my brother born a year after me.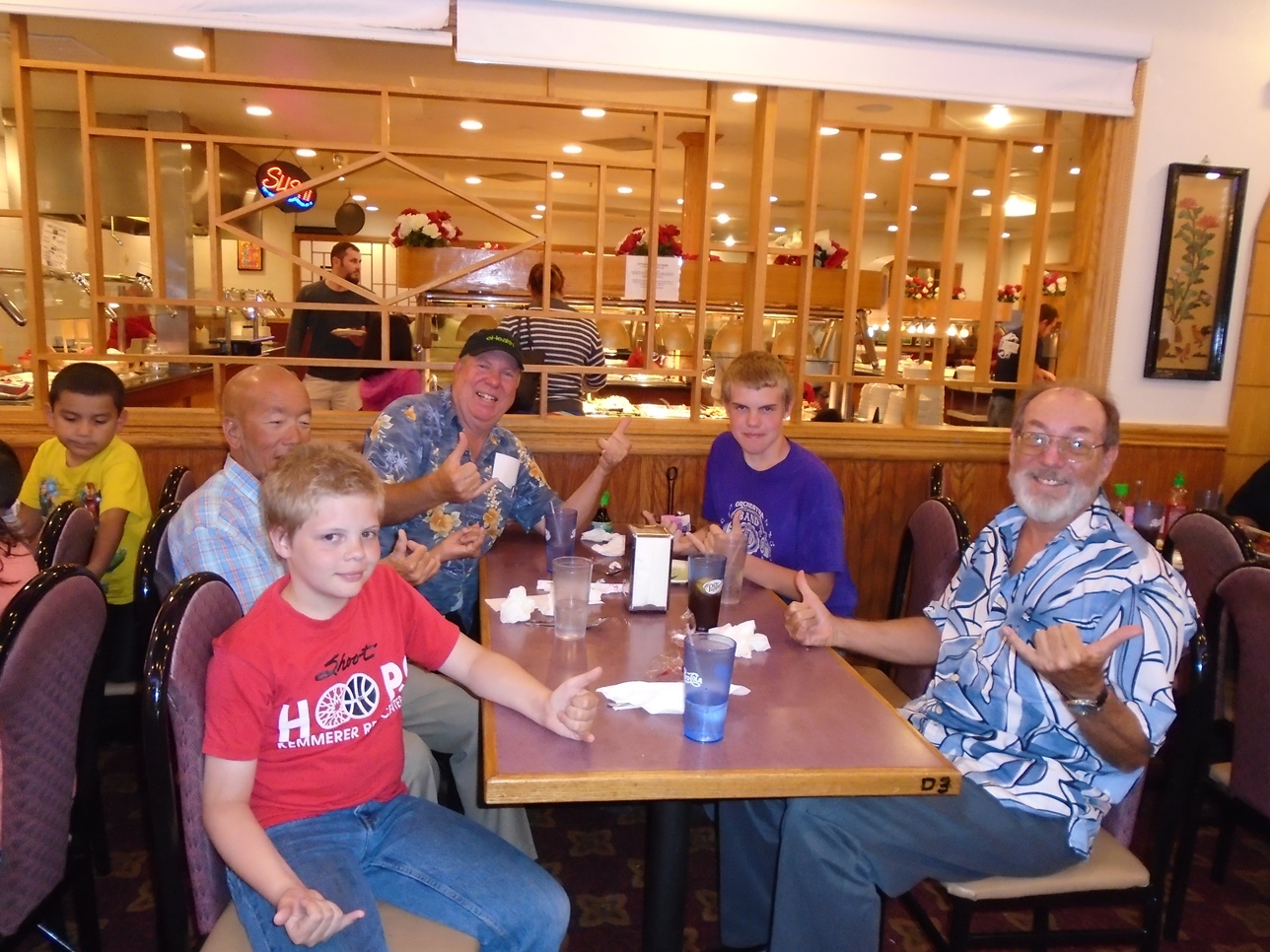 Walter and boys with his friend Doug at Sakura buffet in Salinas.

A Birthday greeting for Walter.

Walter is listed in Encyclopedia of American Loons, a slander site, apparently written by someone in England who loves the established status quo.

Here's an interesting story about his summer after graduation from high school:
I flew from San Francisco to Amsterdam in the summer of 1968, shortly after graduation from SHS. I was still 17, going on 18, when I left California.

After taking a train south out of Amsterdam (after ogling but not partaking of the Red Light District), I began hitch-hiking southwards through Germany, through Austria, revisiting Seefeld in the Tirol where I'd spent spent the summer of 1966 with the Foreign Language League studying German. I then hitch-hiked south to Italy, visiting Pisa where I climbed the leaning tower to the top and also ate a Pisa Pizza, and Rome where I toured the Coliseum and Roman Forum, but not the Vatican City. I then hitch-hiked north to revisit Venice (which I'd also visited in 1966). I turned 18 while in Venice. From there, I hitch-hiked north to Vienna, and promptly went to the American Embassy and registered for the SSS. The notation on my receipt was that my present address was "touring Europe" and my US address was California. I stayed at Youth Hostels wherever I spent the night, almost without exception. The registration date was about 4-5 days after my birthday, but I don't now recall exactly how long after it was, but I insured it was well less than the 10-day requirement then in effect. After leaving Vienna, I hitch-hiked to Salzburg, and then from there towards Munich.

On the way to Munich it got dark before I made my destination of Munich, and stranded on the side of the freeway I was contemplating spending the night outdoors, which would have been the first night not at a youth hostel. However, as it was dusk, I saw a light in the distance across some fields, and believing it was a farmhouse, I walked towards it and discovered a few houses (a tiny hamlet). I inquired (in German, which I spoke well enough) if it would be possible for me to spend the night, explaining my situation. They exclaimed that they operated a Gasthof and had a guest room just for that purpose, and it would only cost 5 Marks (which at that time was $1.25, about twice what a Youth Hostel cost (typically 2.6 DM, or about $.65) It was quite comfortable, but no running water. Instead, there was a small basin and a pitcher of water, with an outdoor outhouse. The next day I arrived early in Munich. Munich was a huge city, with a large Youth Hostel. I promptly visited the Hof Braeu Haus that evening, and after less than 2 Liters of beer, I was super drunk. Outside, some even drunker GIs (about 19 years old) offered to lead me back to the barracks, but after repeated explanations they finally understood I was not in the military. Needless to say, I made it back to the Youth Hostel and slept in. I learned my lesson about drinking.

From there I proceeded north to Luxembourg, Belgium, England/London, back to Belgium, back to Germany, then Holland and Amsterdam for my flight back to the US. All travel in Europe, except for that first train ride out of Amsterdam, was by hitch-hiking, as I only had $4/day to spend during that tour.

I brought back a marble chess-set for my brother Rick, which I carried in my back-pack after I bought it in Italy. Two years later I repeated a European tour, this time with Mark Anderson in tow, and we used trains, hitch-hiking, and a rental car to get around. I met up with mother in Switzerland that summer, as she was travelling around-the-world with Mits at that time.
Walter currently lives with his wife Linda and several children in Utah.
Email Richard dot J dot Wagner at gmail dot com
---
index.html, this hand crafted, human readable HTML file was created July 2, 2011.
Last updated July 26, 2016 by Rick Wagner. Copyright © 2011-2016, all rights reserved.