With a Little Help
Autobiography of Rick Wagner
Chapter 7: USC
After I graduated from UH in 1979, I was in debt and ready to go to work. I thought that if I ever saw the inside of a classroom again it would be too soon. But ten years later I was ready for more. I wanted to get a Master's Degree in mechanical engineering, but at the time the TRW Fellowship program, which payed employee tuition for those qualifying, didn't have that as one of their preferred disciplines. I had been doing a lot of computer programming in my work at TRW, right from the first year, so I applied for a Fellowship sponsorship for a Master of Computer Science degree at the University of Southern California (USC).
TRW's Master's Fellowship Program
I started the Computer Science Program at USC as a TRW Fellow in the fall semester of 1992. I had been preparing for it by reading as much from computer science texts as I could. I also wrote computer programs of various representative types such as relational databases, searching, sorting, and encryption for practice. One notable book I read was the highly math-intensive The Art of Programming, a classic computer science book by Donald Knuth. I was assisted by the department manager, Carolyn Routeledge, who, after I had been in the program a while, brought me back to the department (from classified project work) as a Staff Engineer, Mechanical Development and Test Engineering Department. My responsibilities included implementing the S&EG product data management system (PDMS), a distributed federated object oriented DBMS, for the solar array products (SAP) center; developing a system for product solid model integration into spacecraft assembly and test operations; and coordinating training and user support for AutoCAD designers in S&TD, including Web pages creation and maintenance.
Help from Ken
I went to classes at USC full time and also worked at TRW full time. I graduated two years later in the spring of 1994 with a 3.5 GPA. One of the courses I took was a robotics course taught by Assistant Professor Ken Goldberg, a PhD in robotics from CMU. Ken gave me some pointers in implementing an algorithm to find the convex hull of a general polygon. Then he suggested I implement an algorithm he had originated with Randy Brost for the automated design of 2D fixtures. I did so, and Ken was quite impressed with my work. He asked me to join his research team as a PhD student. I readily agreed. Ken is nine years younger than I am and a brilliant roboticist, researcher, and professor, now at UC Berkeley.
USC PhD Candidacy
I applied to USC's PhD program in computer science and was accepted. Next I applied to the TRW tuition assistance program and was turned down. The center manager told me they didn't "have enough money" to fund tuition for a PhD program for one of their Master's Fellows. I had been working there long enough to know that there's always enough money for things they consider important, and if there's not enough money, it means that it's not considered important. Ken had said he could get me a research assistant (RA) position, which would mean free tuition and a small stipend, so I decided to go it alone.
Help from Carloyn
My department manager, Carolyn Routeledge, continued to back me, so I cut my hours to half time (which allowed me to keep benefits such as medical coverage) and continued full time at USC as a PhD student. My main dissertation topic was an algorithm to extend automated fixture design to three dimensions. It would be the first general 3D fixturing algorithm of its type.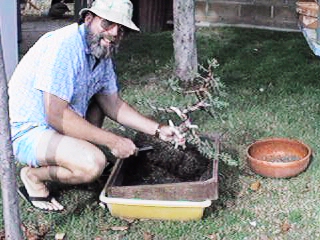 Working on bonsai in 1995 for a Web published demonstration that Tommy helped me with.

At the urging of my dissertation advisor, Ken Goldberg, I began to keep my own personal Web page in 1995 on a server at USC. He had encouraged all of us on his student research team to create our own Web pages. It was a coming thing. In 1997, I used a server at TRW to publish the first spacecraft test report on the internal Web at TRW.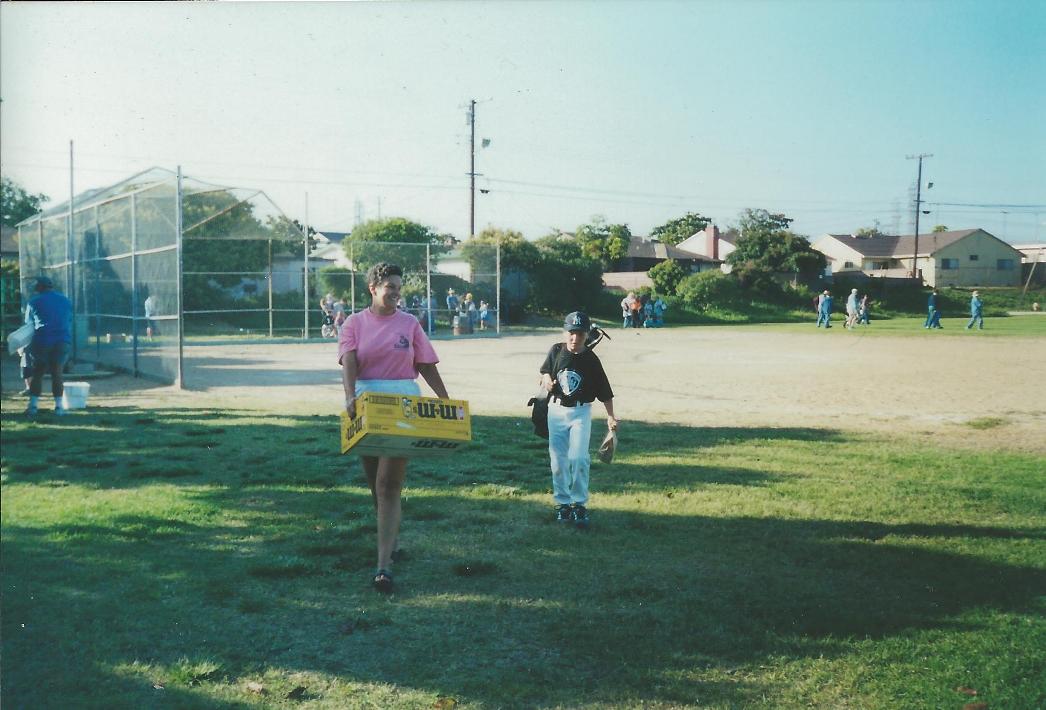 Andrea and Tommy at a Little League baseball game in 1995.

Also in 1995, based on some shareware programs I had uploaded on Compuserve, I was asked to write a chapter for a proposed book called Fun Programming Visual Basic. I wrote the chapter about my Life Workshop freeware program, software to let the user experiment with various cellular automata rules based on Tim Conway's Game of Life as published in Scientific American. I had invented cellular automata for a hexagonal grid, that lead to equivalent complexity with a proven simpler 2D system. The book was published and they asked me to provide an author portrait, which I had taken, shown below.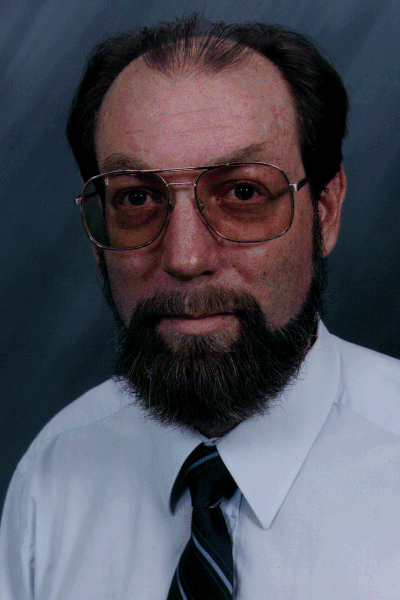 My author portrait photo taken for Fun Programming Visual Basic. It turned out they didn't use it.

I got my idea for a doctoral dissertation while driving home from a robotics conference in San Diego that I had attended with Ken and a couple of others from our research team. It occurred to me that any polyhedron could be "fixtured," held rigidly immobile while a robot worked on it, using struts placed normal (perpendicular) to some of its planar facets. Seven struts could be proved to be both necessary and sufficient. By constructing a toolkit of modular struts, a small set of parts could be used to fixture just about any object.

My mother got colon cancer and Andrea and I flew to Hawaii to see her in the summer of 1966. We visited her and Mits at their cottage in Pohai Nani in Kaneohe, but it wasn't very meaningful because she was pretty far gone in the morphine. She passed away a few weeks later and I flew back to Hawaii for her funeral. When I was little, the subject of death came up once or twice and Mom always said she wanted only a plain wooden cross to mark her grave. She was cremated and her ashes put into a koa wood urn that was put into the vault at the Church of the Crossroads on University Avenue in Honolulu. Mits planted a garden in her honor in a public space at Pohai Nani. I visited the vault in the church in 2011 when I stopped there by myself one day.

Posing with Ken Goldberg's Telegarden, the first robot gardener on the Web. I didn't help build or design it, but I tested it.

This page has a summary of my course work at USC. I graduated in the fall of 1997 with a 3.8 GPA.

Andrea had this glamour photo taken around the same time.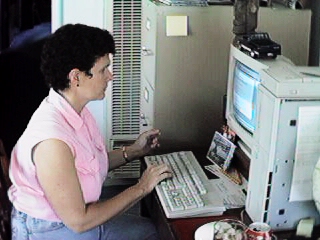 Andrea at the home computer in 1996.
Politics
I was a registered Libertarian in the 1990s. I attended at least one of their events in the South Bay, and at the urging of the party I ran of the non-partisan office of Water Reclamation District Board Member. I filed for listing on the LA County ballot and there were five others. The incumbent, Goldsworthy, won, and I came in second.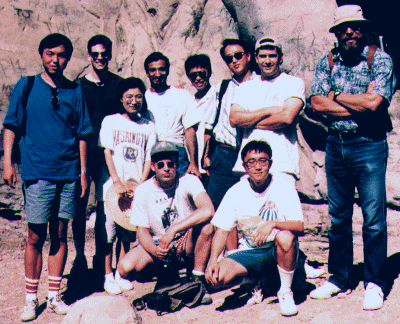 Ken took our research group on a hike in the mountains in 1996.
Technology
I wanted to buy a digital camera. I could see that film cameras were going to be fading away some day. So I went to the biggest and best camera store in Torrance, the eighth largest city in Southern California. I walked in and asked to see their digital cameras. They just laughed and said "we do film here." So I finally found a Casio camera at Sharper Image at the mall across Hawthorne Blvd. from my neighborhood. It was only 340 pixels wide, had lousy dynamic range, and consumed four AA batteries in about 20 pictures. It also had a proprietary file format and compression, but it had a file translation utility so I could get JPEGs onto my computer. I took it to Hawaii and all around California on our travels too.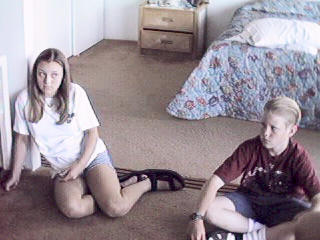 Andrea and I took our kids to Hawaii in 1996 and sister-in-law Pat brought her two kids, Lisa and John. Digital photo.

After sailing on Horan's catamaran, Horanamoku with Gusto, we ate a wonderful dinner at Horan and Suzi's house.
That's Suzi, Malia, Becky, Horan, and Andrea.

I have to admit that these early digital photos are not very impressive. The cameras rapidly gained in picture quality, convenience, and popularity. Now film cameras are not used anymore at all.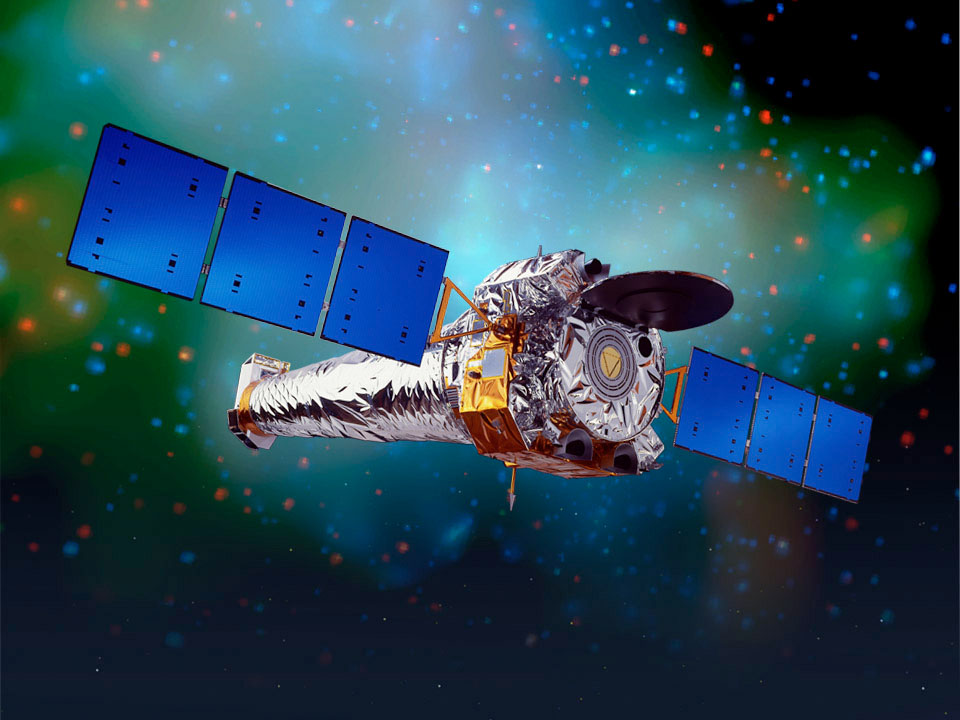 The Advanced X-Ray Astronomical Facility (AXAF), later renamed Chandra after the Indian astronomer. TRW artist rendering.


This page describes my dissertation defense, dissertation committee, and has a link to the dissertation itself. This linked page describes some of my research at USC.

After I got my PhD, I was asked by the Computer Science Department Chair to teach the four unit senior design course in software engineering in the winter/spring semester. I did so and then was asked to join the faculty as a Lecturer in Computer Science. I started as a full time Lecturer in the fall semester of 1998 and again department manager Carolyn Routeldge allowed me to work half time at TRW to enable that. I continued teaching at USC for two years full time through the winter/spring semester of 2000. My teaching at USC is described at this linked page. I grew tired of the daily commute and the non-tenure track job didn't seem to have a good career path, so I went back to TRW full time in the fall of 2000.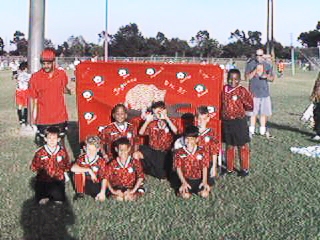 Tommy and his soccer team in 1997. Digital photo.

In 1998 I demonstrated the first use of Web-integrated test procedures. The procedure and its referenced documents such as drawings were available to the test conductor and technicians via Web browser.

1998 August hike across the Grand Canyon with Becky's Girl Scout troop. Camp at Bright Angel Creek. Digital photo.

In 1999 I worked with Chuck Wright to do a spacecraft mass production computer simulation. We were proposing to produce a spacecraft a month for a constellation program, and we set up the simulation to optimize the production flow, a kind of assembly line. The simulation showed the optimal number of parallel workstations for the various assembly and test tasks. As it turned out, the sophisticated random trials software we were using was unnecessary for the analysis. I had observed that adding a parallel workstation could never result in a decrease in production. That is, there were no local maxima, so that simple hill-climbing gave the right answer. Chuck was not appreciative of my announcement to that effect.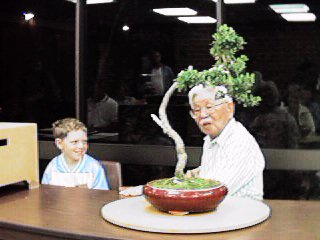 Tommy getting his tree critiqued by John Naka at a bonsai club meeting.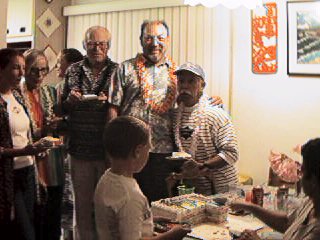 My 50th birthday party in August, 1999, with my Dad and birthday cake at our house in Torrance.

In 2000 I created the world's first general Order(n) sorting algorithm. TRW filed for and received a patent for it. I had been teaching the beginning programming courses, CS 101 and 102, and on the subject of sorting algorithms, had told my class that if anyone ever found a generalized Order(n) sorting algorithm, that his fame in computer science would be assured. Two months later, I did it. The key was the new data structure, the string tree utility datastructure (STUD). See the page linked above for details.
Bonsai
I was elected President of Dai Ichi Bosai Kai in 2000, and served out my two year term. For the next two years I was Program Chair, arranging demonstrators for monthly club meetings.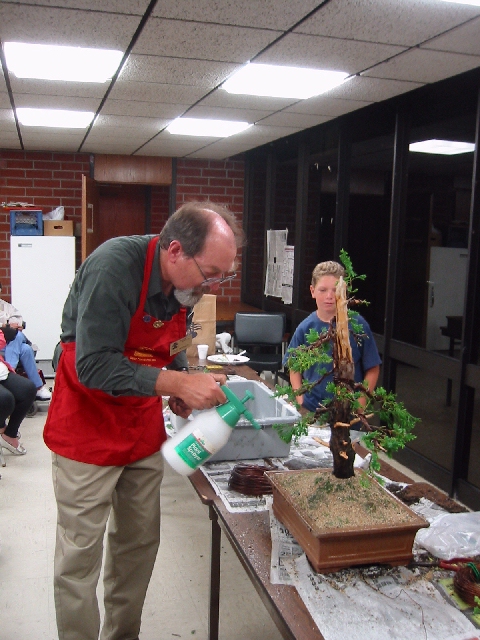 Performing the President's Demo, a bonsai club tradition, in January 2002, with Tommy, 13, as my helper. Photo by Jim Peerson.
Mathematics
I developed some original mathematics in my doctoral dissertation and returned to pure math themes over the ten years from 2001 through 2011. One original proof I created had to do with irrational numbers. The proofs I presented may seem like small steps, and like all inventions, might seem obvious in retrospect, but to me they were new. I didn't see them in a Web search, but for all I know I was reinventing them. But to me it was gratifying that I was able to make some small progress in a pure math field. Other original mathematics ideas I created over that period include multi-linear interpolation and prime vector notation. Hexagonal numbers weren't my invention, but their striking relationship to the prime numbers was one of my observations.

In 2001 I developed and used a five-axis univeral joint for torque-angle testing. When driving a hinge, it's important not to induce any load but moment in the axis direction of the hinge. Any side load or overturning load can affect the friction in the hinge. Hence the need to ensure decoupling at the hinge driving interface. Hence my invention of the five axis U-joint. I filed a patent disclosure, but TRW declined to pursue it.

Also in 2001 I performed the first formalization of a flange stiffness design concept. In space, large deployed systems have many vibrational modes. Generally, the stiffer the system the better, particularly in regard to how it relates to reaction control system thruster firing. Maximizing interface stiffness of flanges, which are very commonly used for assembly, is important to keeping system weight down. My flange design provides that optimality.
JWST Proposal
I started working on the James webb Space Telescope proposal in January 2001, my first big job of the new Millenium. We were competing against Lockheed and Boeing for the program headquartered at NASA's Goddard Space Flight Center (GSFC) in Maryland.

I managed the integration and test portion of the James Web Space Telescope proposal, traveling with the proposal team to Baltimore, Maryland, to pitch the proposal. We won, beating out Lockheed and Boeing. I had come up with the mechanical system integration method and with two techniques for deploying the sun shield at system level, one conventional technique using cable pulley trolleys and counterweights and an alternative method using helium balloons.

System integration required installing the equipment compartment to the deployed sun shield, which meant that an elaborate system of mechanical ground support equipment (MGSE) would be required to support both with the interface fairly high off the floor. Next, the optical telesecope assembly (OTA) would be installed to the equipment compartment. Our proposal defined all the assembly and test activities to ensure a perfectly working telescope on orbit. The customer was sensitive to test, verification, and reliability issues after the Hubble Space Telescope experience. The I&T portion of the proposal was critical to our success.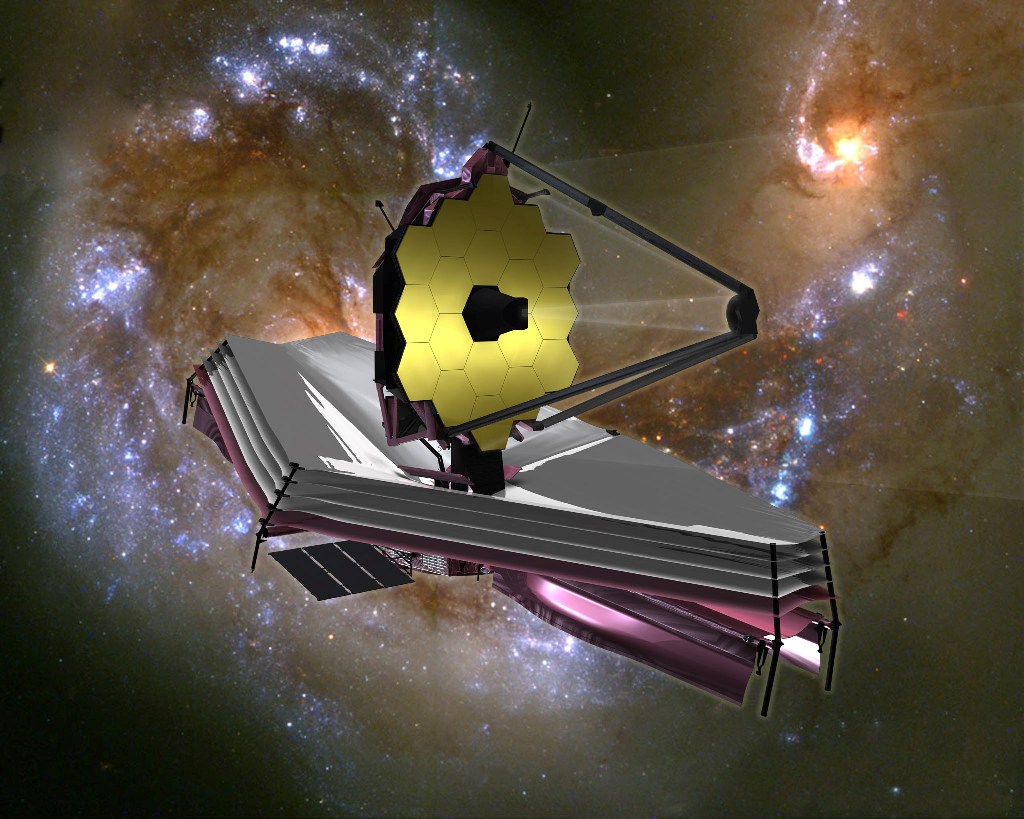 James Webb Space Telescope, TRW artist rendering.

The JWST program, as is typical with scientific NASA programs (because of Congress, mostly) , has been slipped, refunded, and rescheduled almost continually from its inception. It will be a great astronomy asset, but it has still not been launched as of this writing in November, 2016. If it works, from its position at earth-sun L2, a million miles from earth, it will yield unprecedented views of the universe.
---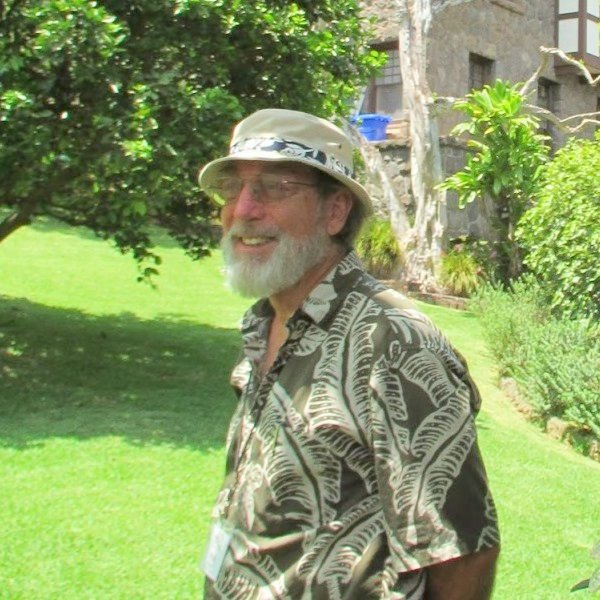 April 23, 2015, Manoa Heritage Center, Manoa, Oahu, Hawaii.
Note to other Rick Wagners about the use of our name: I am Richard J. Wagner, and I know there are lots of us Richard Wagners who go by "Rick." I use our name, "Rick Wagner," in the title of this autobiography because that's the name I go by. I established my personal home page under that name back in 1995, long before many people even knew the Internet (much less the Web) existed. So I consider I have a kind of Web presence precedence, and therefore am entitled to use my nickname in the title of my work. I know and/or hope you will understand.
---
chapter7.html
Hand crafted HTML code copyright 2002-2017, by Rick Wagner, all rights reserved.
Email comments to xpcy96 at yahoo dot com.

This page created April 9, 2002.
Updated May 10, 2004.
Updated October 29, 2016.
Updated November 19, 2016.
Updated December 28, 2016.
Last updated April 30, 2017