Doonesbury


Prejudice, racism, ignorance, and conservatism.
The Banned Doonesbury Abortion Cartoon
Gary Trudeau, Reader Supported News, 19 March 2012:

As we reported back on March 12, Gary Trudeau has done it again. The intrepid comic strip author has ventured into forbidden political territory once more, and is banned by many publications again. Here are parts 1, 2, and 3 of the banned Doonesbury Abortion Cartoon. -- ma/RSN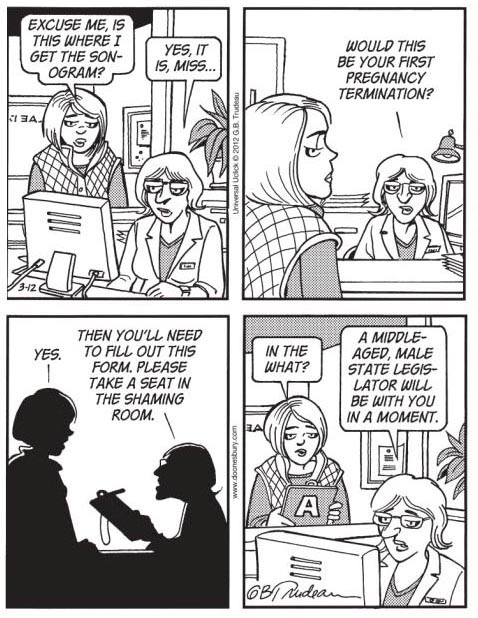 Part 1.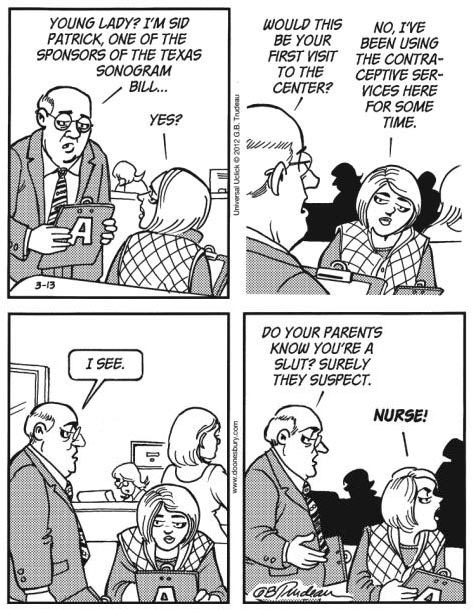 Part 2.

Part 3.
Sunday Cartoon


Election rigging. Honolulu Star-Advertiser, March 10, 2013.
---
Richard dot J dot Wagner at gmail dot com
index.html; this hand crafted, human readable HTML file was created March 18, 2012.
Last updated March 31, 2013, by Rick Wagner. Copyright © 2012-2013 by Rick Wagner, all rights reserved.
Cartoons copyright by their owners. Fair use for educational purposes.